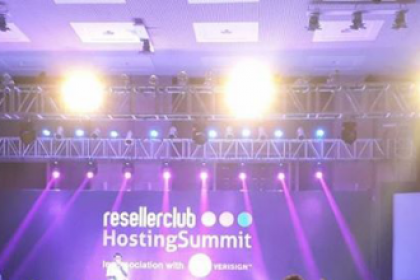 It is always good to take active participation in seminars where you'll find ample opportunity to learn about new things & meet with other leaders of this industry. On 17th Oct, 2013 the "Asia's Largest Hosting Summit- 2013" powered by 'Reseller Club Hosting Summit' was hosted at Hyatt Regency, Gurgaon in association with 'VeriSign'. Few excerpts from the day-1 session are given below. Lot of new things to learn & experience from the best Industry Leaders.
Reporting @ 10.30 AM: The 1st session started on 17th Oct, 2013 at 10.30 AM with keynote given by Mr. Bhavin
Turakhia & Mr. Manish Dalal, from Directi & Verisign. Later on the most important session was from Mr. Kartik Taneja, Google India & he discussed on the booming sector "Mobile, Mobile, Mobile!"
Reporting @ 11.30 AM: It was a pleasure to meet Mr. Taneja & his elaborated discussion helped everybody to understand the insight of mobile marketing, text based marketing. He answered all the questions instantly that were asked within 1 hour related to mobile based web marketing that includes text based promotions, analytics to track mobile conversions & how to target visitor's. He's one person that you can look up to when it comes to Mobile Web Marketing. A rapid fire round of 1 hr passed away so quickly that I can hardly realize.
Reporting @ 12.30 PM: HUNGRY!!!! don't worry, its Lunch Hours & Hyatt Regency catering section did everything correct for all the foodies who gathered in huge numbers during this time. Ranging from north Indian dishes to south Indian ones, everybody satisfied their appetite quite well.
Reporting @ 1.30 PM: "Protecting Your Internet Business Globally" ? This session was dedicated more towards 'worldwide internet consortium forum' & I didn't take active part in this session and finished some of my personal work within this 1-hour.
Reporting @ 2.30 PM: "Kickass Marketing Ideas for Web Hosts & Designers" ?
Mr. S. Luthria, from Reseller Club hosted this session & came up with some intellectual tips on how to market a particular product or website in Web with special care being taken in User Interface portion of the design. This session was more or less related with SEO & how design can come into action while marketing a particular subject. Although I thought there were some points that can have a different impact for various business houses. While most of the points were mainly faced by majority of the businesses so one can do Trial & Error process.
Reporting @ 3.30 PM: Coffee Break ? Concluded my day with this break & returned to my hotel since the last session was not related with my objectives.
Bye Bye! RCHS
It was a tiresome day but if you're gaining knowledge out of it then rest of the things don't matter a lot. Lot of young students, consultants, search engine marketers, web designers, and entrepreneurs came to this seminar & was really a pleasure to meet all of them. Ideas, Innovation & its Implementations were discussed during these 4-5 hours. Looking forward to the next event.